Hi everyone! Mama was telling us about this cool thing one of her friends invented. This isn't a sponsored review or a commercial break or anything... we just thought it was so cool, when we heard about it, that we wanted to tell our friends about it!
Mama is in a Meetup group so she can make new friends because apparently hanging out with two dogs and a cat isn't enough! (LOL, just kidding, Mama... we know you have to hang out with humans every so often!) One person at the group, a lady named Sheryl, started telling Mama about a thing she and her husband invented. It is called a Pet Petal Pullcart! It was invented because, when Ms. Sheryl was planning her wedding, she wanted to have something even cooler than a flower girl... she wanted a flower dog! She already had her very own cute little dog that would be perfect for the part. But she wanted to figure out a way for her dog to toss flower petals along the aisle as she walked! This is a very hard trick for a dog to learn, especially since our fingers are tiny and round!
So Sheryl and her husband made a little cart that can be attached to a dog's harness. When the dog walks, and pulls the cart, flower petals drop out of the cart!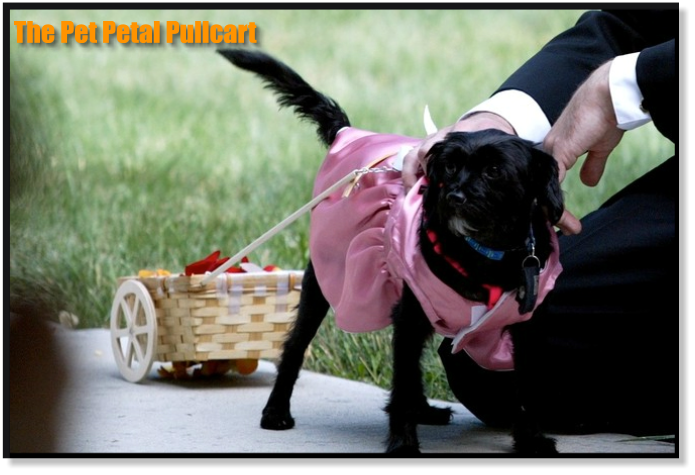 There is one thing humans will have to do on their own. You have to teach your dog to walk down the aisle, instead of running around like a crazed raccoon with the cart! Ms. Sheryl's website says that this is a pretty easy trick to teach a dog. You start out by standing a little far away from your dog, showing them a treat, and having them walk towards you. (We two dogs already know how to do this, because Mama teaches us "sit-stay" with cheese or hotdog pieces all the time!) We think maybe the dog will
run
towards you down the aisle. If you want him to walk slowly, that might take more training! LOL! Or maybe the dog could just be trained to walk behind someone in front of him, and the human in front of him can be secretly holding a treat in their hand!
We don't know if any of our friends' humans are getting married... but if they are, and they want you to be in the wedding, maybe they can order you one of these! They have to put in an order a long time before the wedding, because it needs to be custom built according to your weight.
Isn't that so cool? When Ms. Sheryl told Mama about it, Mama used her cellphone to find the website right away, because she thought it was so cute! It almost makes Mama want to get married, just so we can all be in her wedding!
(Lily and Sammy-Joe have an idea! We think Mama should order a cart anyway, for Trixie's size. Then, she can attach Trixie to it, and Trixie can take us for rides!)
Thanks for reading, friends! Be sure to tell your humans that you want to be in their next wedding!