Hi, its me, Sammy-Joe, back with Smarty Sunday!
Today I wanted to talk about a book Mama read to us all. We read Nose Down, Eyes Up, by Merrill Markoe. Mama said it was one of the funniest books she had ever read! And even though it was mostly about dogs, I liked it too.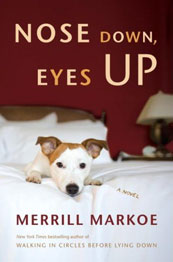 The main character in
Nose Down, Eyes Up
is a forty-seven-year-old guy named Gil who is living life like a twenty-two year old. His roommates are his dog Jimmy, and three more "foster" dogs that have turned into permanent family members. One day Gil walks into the garage and finds his dogs, and some neighborhood dogs, having a meeting! Jimmy has started a class to teach other dogs how to manipulate humans. Gil is surprised to realize that he can understand Jimmy and the other dogs!
He later learns that Jimmy believes he is Gil's birth child, and that he is a hybrid between dog and human. He hopes to someday be able to walk on his hind legs and get his driver's license! When Gil breaks the news that Jimmy was actually "adopted" from a litter of dogs birthed by Gil's ex-wife's dog, he gets very upset and demands to meet his birth family.

The rest of the book follows Gil's adventures and misadventures as he reunites Gil with his birth family, reunites with his ex-wife, and reunites with his own birth family. But the thing that makes this book hilarious is the personalities of all of the dogs! We loved reading about Dink, who is completely confused about the concepts of inside versus outside; Fruitey, the poor doggie who was abused in her former home and has to learn to trust humans again; Cheney, who believes life is all about chasing balls; and of course Jimmy, their fearless leader!
Here is a short excerpt from the book, just to give you a taste.
"Can I ask you a question?" asked Dink. "...Tell me one more time. Is it pee inside, poo inside, eat and play outside? And what about puke? Inside or outside?"
"Here's a mnenonic device. Everything starting with P is outside. P is for 'patio.' P is for 'pool.' P is for 'plants.' P is for 'poo' and 'pee. And 'puke.'"
"...If we're supposed to poo outside, why does Gil collect it in a bag and bring it inside?"
"Because Gil collects s***. No one knows why or what he does with it," said Jimmy. "From what I've observed, I think he maintains a pretty extensive collection..."
ROFL! Right?
For all of you bloggy pets, the author does make fun of us a little bit. When Gil starts understanding Jimmy, he creates a blog and meets a lot of other pet bloggers... who happen to be really annoying! We hope you won't be offended by that part... We thought it was pretty funny, ourselves. Our Mama says she hopes they someday make a movie out of this book, because she could picture it all so well in her head.
Merrill Markoe has written a few other books about dogs, and our Mama hopes to buy them as soon as she has more $$$. But for now, we are excited to recommend Nose Down, Eyes Up for your reading pleasure! The author has a blog, too, so be sure to check it out.
Thanks for joining us for Smarty Sunday! Oh yeah and I almost forgot...
Don't forget about our three giveaways this week! You can enter to win the kitty surprise pack, the Kong Tugger Knot dog toy, and the dog treats fromClaudia's Canine Cousine! Remember, the last day to enter is Tuesday at 5:00 pm Central!