Hi everyone! First of all we wanted to remind you, there are two giveaways going on on our blog...
... a cat toy here, and a dog toy here. Tomorrow will be the LAST day to enter for the cat toy! A winner will be announced on Friday morning! Aren't you excited? We are!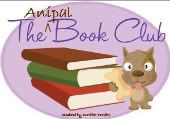 We've signed up to be part of the Anipal Book Club, where we will be studying the classics! Recently, we started reading Pride and Prejudice by Jane Austen. Today is our first scheduled blog entry about it!
We're supposed to have read chapters 1 through 15... which, amazingly, we managed! We thought we'd be lagging behind. But Mama read to us at night when she couldn't sleep, and we got caught up.
Today, we thought we'd tell you a little about the characters we've met in the book so far.
The main characters are the Bennet family, Mr. and Mrs. Bennet and their five daughters. (We think its funny that the husband and wife call each other Mr. and Mrs!) Their daughters are all teenagers or older, and Mrs. Bennet is starting to get obsessed with marrying them off. Mr. Bennet is more good natured, and likes to tease his wife and daughters. For instance, in the beginning of the book, when Mrs. Bennet begs him to go meet a new neighbor who is an eligible bachelor that would make a good prospective husband for one of the daughters, Mr. Bennet pretends he is not going to go... and then he does go, but keeps on pretending he hasn't, until the last minute, just to torment his wife!
The daughters are Elizabeth, Jane, Mary, Catherine (Kitty), and Lydia. Elizabeth and Jane are the ones that are the most important in the story. They are the oldest, and the ones who need to get married first. They are very close to each other and are usually with each other. Both have very sweet temperaments. Elizabeth points out that Jane is very kind and never has a bad word to say about anyone, and that she sees the good in everyone, almost to a fault. Elizabeth is a little more cynical. She is still nice, but she doesn't mind getting into arguments or standing up for what she believes in.
Lydia and Catherine are only about 15 and 16 years old, and they're obsessed with trying to befriend the soldiers who are staying in the town. They are not in the story yet very often. Neither is Mary, the middle sister, who has some sort of Middle Child Syndrome. She barely exists in the story! When she is mentioned, she's described as being sort of plain, not particularly smart although she reads a lot, and wanting for attention.
Mr. Bingley is the new bachelor who has moved into the estate called Netherfield. He's brought with him his two sisters, a brother-in-law, and a friend named Mr. Darcy. When he first moves in, he and his family attend a ball, where they meet all of the neighbors. Mr. Bingley has a great time at the ball, and dances with all of the ladies, but he particularly likes Jane.
Mr. Darcy, on the other hand, is not that nice of a guy. He is grouchy and refuses to dance with anyone at the ball. When Bingley points out that Elizabeth isn't dancing with anyone, Darcy says that she is just "tolerable" and not worth his attention. Later on in the story he will start to change his mind, but Elizabeth will stay pretty mad at him for that comment.
Bingley's sisters, Miss Bingley and Mrs. Hurst, are kind of mean. They are always gossiping about the Bennet family. They look down on the Bennets. They are always very nice to the Bennets to their faces, but as soon as the family members are gone, they start talking rudely about them. They think Mrs. Bennet and the younger sisters talk too much, and that Elizabeth is a little weird. They do seem to be friends with Jane, though!
Later on in the story, one more character appears... Mr. Collins. He is a cousin of Mr. Bennet. Mr. Bennet and Mrs. Bennet do not like him that much because he is supposed to be inheriting the house that they live in, and someday he will be able to throw them all out if he wants to. Mr. Collins comes, and he says he wants to be friends with them and get along, although they have a feeling he is inspecting the house and furniture because he knows it will be his someday.
The weirdest thing that happens, in Chapter 15, is that Mr. Collins announces that he would like to marry one of the Bennet girls. He thinks this would be a good way of making up for the fact that he is going to inherit their home. At first he thinks he'd like to marry Jane, but since Mrs. Bennet assumes Jane might marry Mr. Bingley, she says he'll have to marry Elizabeth. He is fine with this. We think this is really weird because they are cousins! Well, first cousins once removed, but still.
Anyway, that's as far as we've read. So far, we think its very interesting to read about how humans acted back in those days. There sure was a lot of pressure for girls to get married! It was as if their lives, and their families' lives, depended on it! Poor Elizabeth is going to be pressured to marry her own cousin, who is her father's age, just to keep the family going! We're glad things are not like that anymore. We wouldn't want our Mama being told she had to marry some random guy. What if he didn't like animals???
If you'd like to read this book, you can actually get it in e-book version for free! We got our copy at Project Gutenburg. You can download it for an e-reader, or for your regular computer.